Solutions by Specialty
Analytics for Sales & Marketing

Analytics for Sales & Marketing
Analytics for sales or marketing uses the collection and analysis information, be it internal or external to a company.
The goal is to learn everything you need to know about your company's internal and external environment to make the best possible decisions to execute your sales and marketing business strategy.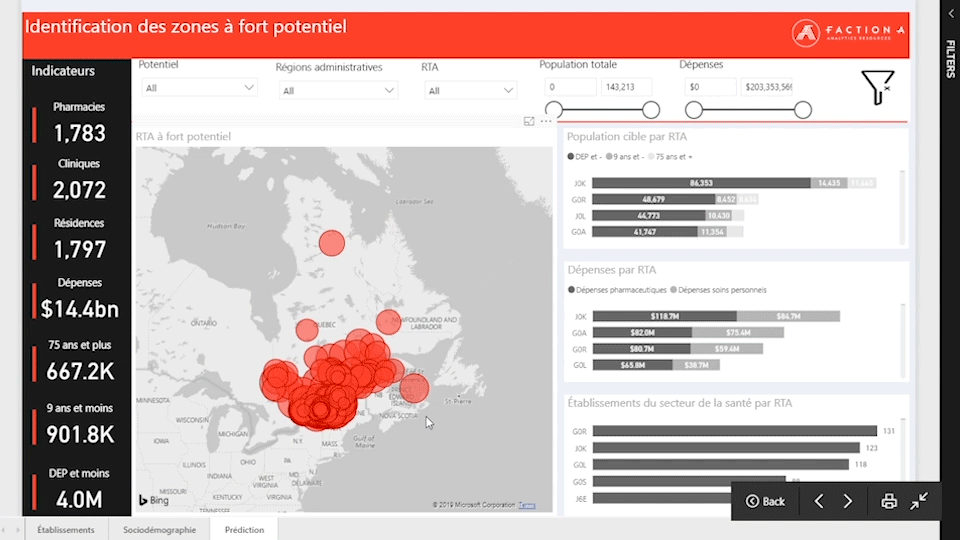 Analysis Possibilities
The analysis possibilities offered by the Faction A specialists are almost endless, here are some examples.
01
COMPETITORS
Know the inventory of your competitors in real time;
Locate geographically your inventories versus those of your competitors;
Analyze the distribution network of my competition;
Detect monopoly situations on high demand items to maximize your profits;
Sentiment analysis on your products and those of the competition, the perception of your customers about your offer;
Tracking of compétitors' prices.
02
CLIENTS
Analysis of sales by product, territory, salesperson, branch, profitability, results vs. objectives, etc.
Analysis of the product mix Identification, prioritization and geolocation of potential customers
Identify the key segments of customers to adjust the content of the website , improve targeted promotion and optimize the distribution of flyers;
Sociodemographic analysis and consumption habits;
Integrated analysis of the comparative performance of several websites.
03
MARKETS
Optimizing the sales route in a new territory;
Market mapping:
Identify areas with high potential to open new sales outlets / services;
Determine the potential of one or more sites, branches, points of service, etc.
Our services
How it works
Following a first meeting to analyze your needs, the data sources needed for the analysis are evaluated and prioritized. Subsequently we develop a prototype or a first version of the final result. Once these steps are completed, we are able to evaluate the work to be done to complete the mandate according to your criteria. All that remains is for us to complete the mandate and then provide the results to you in th eform of an analytical application.
Phase 1 : Preliminary
Interview to Understand and Define Needs
Preliminary Search for Relevant Data Sources
Create a Prototype from a Dataset
Estimation of the Effort for Full Mandate Execution
Preliminary Results Presentation and Confirmation of Terms of Reference and Sources data to use
Phase 2 : Production
Collection of previously identified information
Analysis of collected information
Communication of results in the form of an analytical application
Installation and training of the application
 Geolocation Analysis
Geospatial intelligence (or geolocation) is a technological approach based on the combination of geomatics and statistical analysis of data. The advantage of this approach is the ability to geographically represent a market by combining information from databases from various sources: population census, consumption data, distribution network data, data on the competition, etc.
Possible Analysis:
Identification of high-potential markets
Rationalization of low-potential markets
Definition of markets
Migration of sites
Our geolocalisation services can help you:
Identify and select new local, national or international markets;
Choose the best locations for new branches;
Improve marketing efforts by providing better visibility of customers and their habits;
Improve customer service;
Plan for geographic expansion;
Reposition yourself in a changing market.
Ci-dessus une description vidéo d'un tableau de bord démontrant l'analyse de géolocalisation pour pharmacies.
Sentiment Analysis
Sentiment analysis is the use of natural language processing, text analysis, computational linguistics and biometrics to identify, retrieve, quantify and systematically study the affective states and subjective information of clients.
Sentiment analysis allows you to use a wealth of data to extract valuable information about how your customers perceive your products and services.
Our Sentiment Analysis services enable you to:
Find out which products in your range have the highest potential
Know your customers' opinions about your competitors
Compare the perception of your products with similar models
Ci-dessus une description vidéo d'un tableau de bord démontrant l'analyse des sentiments d'un fabricant de meubles
Microsoft Power BI

Local or Cloud-based Datawarehouse
Local Excel Files

Microsoft Azure Services